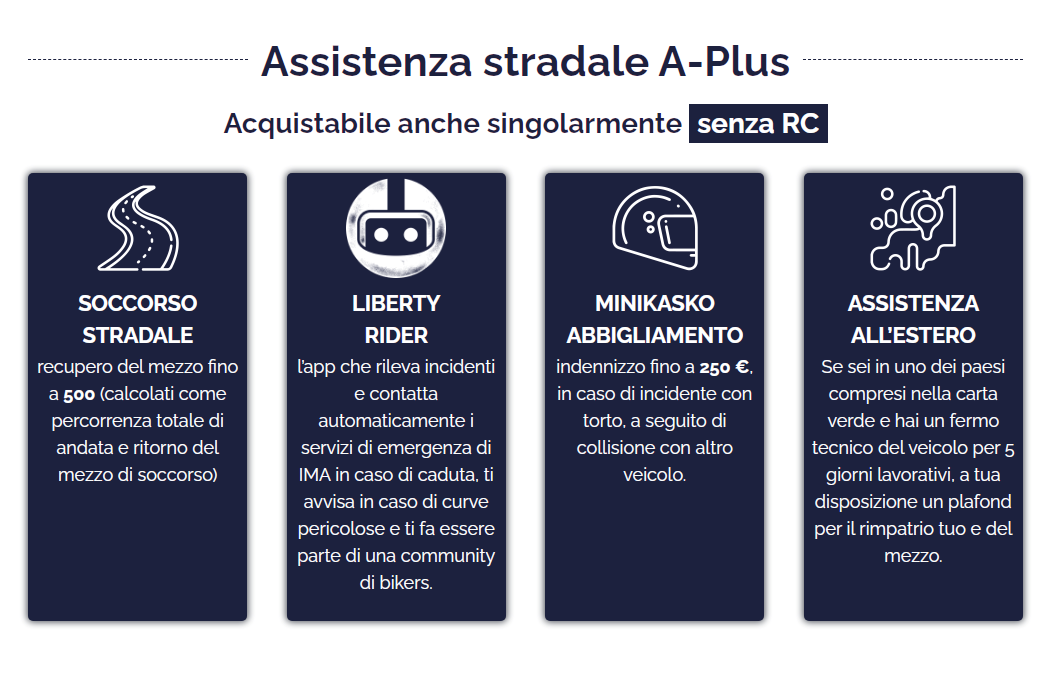 A-PLUS Roadside Assistance
A service that should not be underestimated is Roadside Assistance, designed to be close to you at all times and protect you from all possible unforeseen events.
With the A-Plus Roadside Assistance formula, which can be purchased for only EUR 86 per year, even on a stand-alone basis without a third-party liability policy, you get a unique set of benefits.
These include:
the innovative Liberty Rider app that can save your life in the event of an accident,
vehicle recovery at 500 km a/r in Italy,
reimbursement of 250 euros for the repurchase of damaged clothing and assistance abroad,
taxi to recover the replacement car in Italy,
replacement vehicle in Italy,
mobile workshop,
motor vehicle recovery,
demolition of the motor vehicle in Italy,
legal processing in the event of theft,
return of the stolen motor vehicle,
motorbike recovery journey,
shipment of spare parts,
repatriation of the motor vehicle when abroad,
legal abandonment,
return of passengers/continuation of the trip,
hotel costs,
advance payment of essential expenses,
advance of criminal and civil bail bonds,
advance payment of legal fees,
interpreter at disposal,
extension of stay.
For further clarification, please call us on 031.5621234.